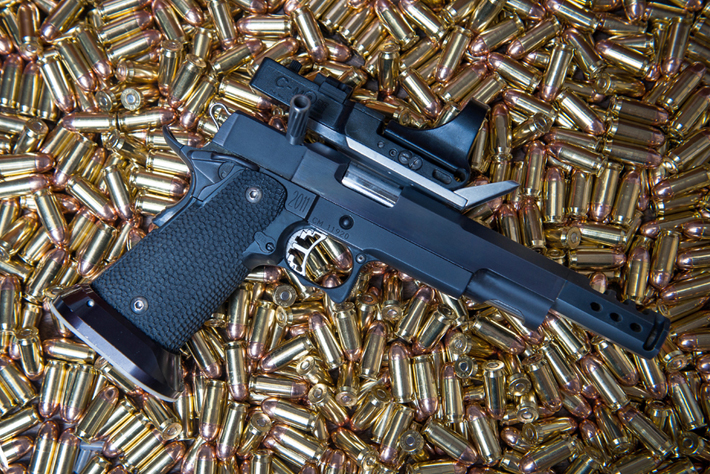 Caliber:
Weight (No Mag):
Weight (With Mag):
Over All Length:
Barrel Length:
Barrel Twist:
Barrel Type:
Width (Thinnest Pt.):
Width (Thickest Pt.):
Trigger Pull Weight:
Front Sight:
Rear Sight:
Manual Safety:
Grip Safety:
Mag. Well:
In Open Class competition every second counts. Minimizing muzzle lift so the shooter can transition between targets rapidly is essential to being competitive. BCA's Open Class "Race" guns use a combination of compensators and barrel porting to tune your gun for your specific shooting discipline. Whether you building a steel gun or shooting the Bianchi Cup BCA uses the most advanced parts and machining processes to make your "Race Gun" the cutting edge leader on the field.
Optical Sights- One of the unique features of Open Class "Race Guns" is the ability to use optical sights. BCA' Race guns come standard with the industry proven C-More Railway style sights. We are also glad to install the newer generation of low footprint "Micro Dots" offered by C-More, Leupold and others. These paralx free sights offer some of the fastest sight references available to today's race gunner.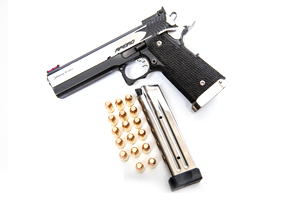 High Capacity Receiver
Open Class competition is one of the most aggressive forms of handgun competition. Extreme speed is the name of the game and controlling when you reload is one key to going fast. All BCA "Race Guns" are built on STI High Capacity Frames, unless otherwise requested. To improve their function we contour the grip making its profile smaller and more ergonomic. Our profiled grips enable people with smaller hand sizes to better control the gun. In addition, we custom stipple each grip significantly reducing the possibility of slippage even in hot climates. We also relieve the bottom of the trigger guard with two finger groves making it possible to achieve a higher firmer grip with the support hand. Speed is useless without control, the BCA high capacity platform is designed to give you every advantage to comfortably drive your race gun.
Compensation
A pistol with less muzzle rise allows the shooter to acquire his next target more rapidly. Through the use of dual compensation technology, BCA Race guns have almost no muzzle rise. When our Race Guns fire the sight dot doesn't bounce, it wiggles. This amazingly flat recoil cycle is achieved by using a hybrid ribbed barrel containing four gas ports combined with our customized five port compensator. Over many years of gun prototyping we have tuned the port diameters and compensator volume to be perfectly matched to the mass of our pistols achieving the ultimate in flat shooting race guns.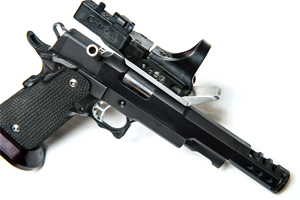 Mass Balancing
A handgun must be balanced to serve the role for which it was built. A high capacity gun holding 22 rounds has different balancing requirements than a single stack gun that only holds 10. BCA race guns have been extensively lightened to insure they are the lightest fastest handling race gun in the industry, but being light isn't the only key. The weight we take off must also be taken from the correct areas to produce a well-balanced pistol that has a flat recoil motion. Looking at a BCA Race gun you will notice many areas where metal has been machined from the slide and frame. The locations and amounts of metal removed have been painstakingly determined to provide the ultimate in mass balanced weapons. It's this kind of thought and engineering that set our "Race Guns" apart as "World Class" weapons.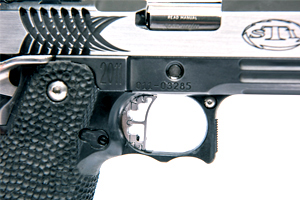 Modular Trigger
The finest race car in the world would be difficult to drive if your foot couldn't reach the gas pedal. The same is true of the trigger on a 1911 style pistol. The shooter's individual finger length and size has a tremendous bearing on the length and shape the trigger needs to be. BCA uses modular trigger systems that allow us to install the trigger insert that achieves the correct shape and length for your finger. Having the trigger in the prefect position for your finger provides the responsiveness you would expect from a "World Class" race gun.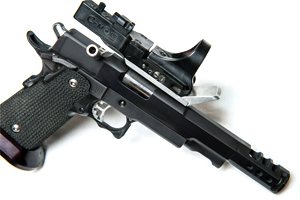 Optical Sight System
One of the unique features of Open Class "Race Guns" is the ability to use optical sights. The sight system is based on a cantilevered aluminum scope mount with gas pedal and comes standard with the industry proven C-More Railway style sights. We are also glad to install the newer generation of low footprint "Micro Dots" offered by C-More, Leupold and others. These parallax free sights offer some of the fastest sight references available to today's race gunner. (Different sights may require different mounts and effect total price)