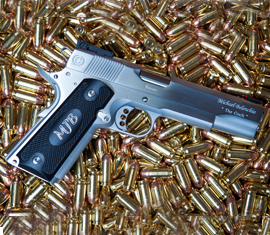 Signature Series Government Model
Bill's Custom Automatics' "Signature Series" 1911 is our most popular model because it's designed to be your ultimate pistol. Benefiting from years of competition experience, this full size defensive pistol incorporates competition quality tolerances with real world usability. Inspired by competition, your Signature Series 1911 will literally have the same trigger system used by the current USPSA world champions. Modern fiber optic front sights help even older eyes stay on target. With the best quality match grade bull barrels available in the world, you will hit where you're aiming every time Custom aluminum grips, with your initials engraved, provide a positive handhold that requires ZERO maintenance for a life time.
See More
Titanium Officers Model
To build the ultimate Carry pistol, Bill's Custom uses Titanium receivers. Our Titanium receivers drastically reduce the weight of the pistol making them much more comfortable to carry. Due to titanium's unique inertial characteristics, these receivers also help reduce felt recoil. Bobtailing the receiver and combining it with a Tri-Topped slide produce the ultimate in light, shooter friendly carry guns.
See More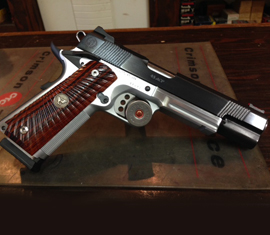 Tactical Operator
In the last five years there has been an increase in the 1911's use in professional tactical operations from the Marine Core to Special Forces teams. One of the primary requirements for their missions is the ability to attach accessories such as strobing flashlights and lasers. The BCA operator is built to the same uncompromising standards as our Signature Series platforms, but includes an integral Piccatinny rail milled into the frame apron. This provides the flexibility to adapt the "Operator" to Piccatinny and Weaver compatible accessories to insure the success of your mission.
See More