Custom Pistols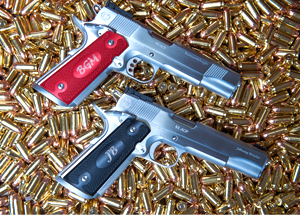 Custom Pistols Made To Your Specifications
At Bill's Custom Automatics we take pride in our handgun work. Only the finest parts are used and they are fitted and installed with a high attention to detail. Browse through these pictures and maybe you will see your next custom handgun!
My father has said many times that reliability is number one, but a firearm is looked ninety percent of the time and shot ten percent of the time, so great care must be taken during the finishing process. We take the time to finish the project. All engraving requested by customers or shown here is done by guild engraver Jim White in Alaska. His turnaround is prompt and workmanship, impecable.
Many different modifications and models are available. In my father's fourty plus years and my sixteen years full time we have seen many mods, some worthy and some that don't add to the pistols reliability or asthetic value.
I will be glad to discuss any project you have in mind before any work has begun.Call or e-mail me at the gunshop for specific prices and estimated turnaround time. Most full house handguns start around 2500.00 on a supplied frame and slide. More elaborate signature series 1911's or open class STI raceguns start at 3600.00
See More
Custom Rifles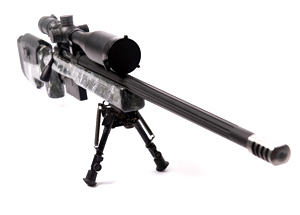 Custom Rifles Made To Your Specifications
Our custom rifles at Bill's Custom Automatics are built with a specific purpose, YOUR'S.With a heavy barrel and proper stock system one half inch at two hundred yards is acceptable. We build on the Remington 700 short and long action mostly, but do have access to custom actions.
WE are beleivers in heavier barrels for better harmonics and stability on the bench. We do offer lighter barrels for walking guns. Shilen is our barrel manufacturer of choice but we can and have used others. You may have your barrel fluted if you choose, in either six by .250 or five by .375 depending on the contour. This does reduce the nose and shank weight a bit but is done mostly for aesthetics.
Robertson Composites is our stock of choice. The ranger model is a fantastic bench and varminter stock. We also use the long range hunter for hunting and some bench work. This stock has a keel that runs the length of the butt section that really enhances this stocks ability to ride the bags well.Both stocks come with a three way butt pad and adjustable comb.
We do perform conventional bedding, however a pillar bedded action that is completely glassed and the barrel channel floated is our preferred method.This is the most torque free stock bedding sytem, and can be proven with a dial micrometer and magnetic base on the barrel. Stock deflection will be less than three thousandths.
Nightforce Optics is our scope of choice. The 5.5x22x56mm is the most versatile scope on the planet. We stock several reticles for your application.
If you would like our reamer list just e-mail me and I'll give you the updated version. We get new calibers and configurations of reamers regularly.
Any questions or a unique project on your mind call or e-mail me at the gunshop and we will work out the details to your satisfaction.
See More