Dual Layer Bedding Process
Many rifle builders bed their barreled actions using a single type of bedding compound. They choose this process because it's expedient and less expensive. This method falls short of our standards at Bill's Custom Automatics.
BCA Pillar Beds all of our Competition and Precision Hunting rifles. Because the stock pillars are the foundation for your barrel action they must be secured in a way that guarantees absolutely no movement. When we say NO MOVEMENT, we mean even one ten thousandth of motion is UNACCEPTABLE. Traditional bedding compounds, which were designed to mate actions without pillars, are not stiff enough to meet our standards for anchoring pillars into the stock.
See More
Rifle Barrel Threading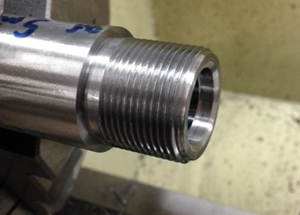 Rifle accuracy depends upon how well the barrel is fitted to the action. When we say "how well" we mean how precisely the bore of the barrel is aligned with the center line of the bolt. Misalignment between the bore and bolt face translates into misalignment of the cartridge in the chamber. This relationship is determined by many factors but two of the largest are how well your barrel threads fit the receiver threads and how square the shoulder of the barrel is. Both of those characteristics are a result of your gunsmiths machining skills and equipment quality.
See More
1911 Barrel Hood Fitting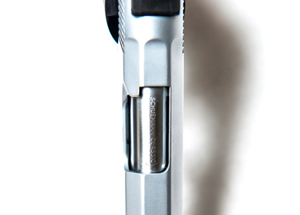 The Hood of a 1911 barrel is one of the most visible and yet most overlooked portions of the pistol. Yes, the Hood is the shiny part of the barrel that you can see looking through the top of the ejection port. It's often stamped with a company log, or caliber designation, and provides a great deal of visual flare to the gun. However, most people overlook how important this portion of the barrel is to the function of the 1911.
See More
Trigger Tuning
You know their names, the "Big Custom Shops". Years ago there were true custom gun makers. Their quality led to popularity and then they were forced to make "the choice". Get bigger, put out more guns, and make more money. The problem is more output means less time per gunsmith. So they make "efficiency choices" that reduce quality "a little bit" but it's worth the payoff. Choices like drop-in bushings and installing aftermarket trigger components that are pre-fit.
See More